The founding brothers of Kerndt Brothers Bank did not set out with a plan to enter the banking business. It was by complete happenstance and an offshoot of their general store that the bank was born.
Located just off of the Mississippi, many farmers hauled and sold their grain from 20-30 miles away and would stop in to buy groceries. Rather than carry the money back home, farmers left their funds in the store safe, beginning the first deposits of Kerndt Brothers Bank.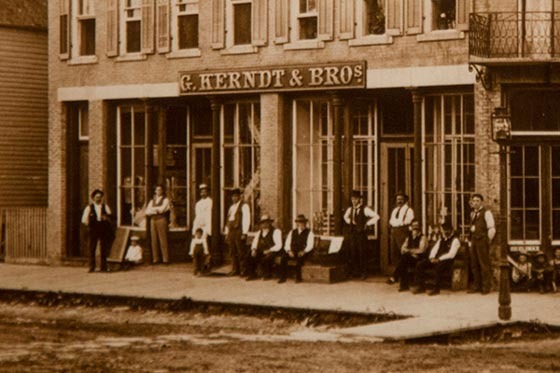 Kerndt Brothers Bank — From Yesterday to Today
We're a community bank that originated in Lansing, Allamakee County, Iowa. Lansing is located in northeast Iowa on the banks of the Mississippi River with a population of approximately 1,000. It's primarily an agriculturally-driven economy with a growing trend in tourism. Kerndt Brothers Bank has been a closely held family bank since 1856.
In 1979, Kerndt Bank Services, Inc., a one-bank holding company, was formed to own Kerndt Brothers Bank. In 1988, the holding company purchased an insurance agency in Lansing so that a full line of insurance services, as well as banking services, could be offered.
In October, 2001, Kerndt Bank Services, Inc., purchased Farmers Savings Bank of West Union and Clermont, Iowa, thus, expanding its locations of financial services offered to nearby Fayette County. Within two years of this purchase, it became apparent that a merger of the Farmers Savings Bank with Kerndt Brothers Bank would be most advantageous to all of its bank customers.
On January 1, 2009, a new location was added to our financial family which was the former Family Merchants Bank of Cedar Rapids. With this acquisition, we are able to offer banking services to the residents of Allamakee, Fayette, Linn, and the surrounding counties.
On November 23, 2015, Kerndt Brothers Bank acquired the Waukon and Decorah offices of Fidelity Bank and Trust which brought easy access to many of our customers living in the Waukon area and expanded our services into Winneshiek County. With these additions, Kerndt Brothers Bank now has six locations in Northeast Iowa.
As we continue to grow, we expand our abilities to offer up-to-date products and services while maintaining a community bank's commitment to the people we serve.
Our Purpose
Is to make this institution a material benefit to the community and provide a safe place for your funds.
Our Mission
To help our customers and shareholders achieve their financial goals by offering flexible credit, trust services, insurance products, and investment options.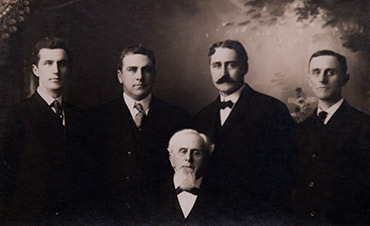 Our Core Values
Integrity means we do what we say. We are professional, honest, and confidential in everything we do.
Teamwork is knowing when to ask for help and when to offer help.
Change and innovation are a continuous series of opportunities for improvement.
A satisfied customer is the best advertisement.